2/6/23
Order your 22-23 student yearbook here. The yearbook code for Fremont Elementary/Fremont STEM Academy is 13371123. Order deadline is April 7th, 2023.
Registration for youth summer baseball and softball has started! These programs are for ages 3-15. Click the following link for registration information: https://wfyouthsports.com/prog...
Next week 2/6-2/10 is National School Counselor's Week. Why participate in National School Counseling Week? "National School Counseling Week 2023, "School Counselors: Helping Students Dream Big," celebrated Feb. 6-10, 2023, focuses public attention on the unique contribution of school counselors within U.S. school systems. National School Counseling Week, sponsored by ASCA, highlights school counselors' tremendous impact in helping students achieve school success and plan for a career. National School Counseling Week is always celebrated the first full week in February." - From the American School Counseling Association website. National School Counseling Week is about advocating for the role of school counselors. Want to know more or think your student could benefit from school counseling services? Reach out to our PK-6 School Counselor, Ms. Allyson Hewitt, at 920-867-8880 or ahewitt@wfsd.k12.wi.us
Dress up days for National School Counselor's week are below.
The Little Caesar's PIZZA FUNDRAISER information: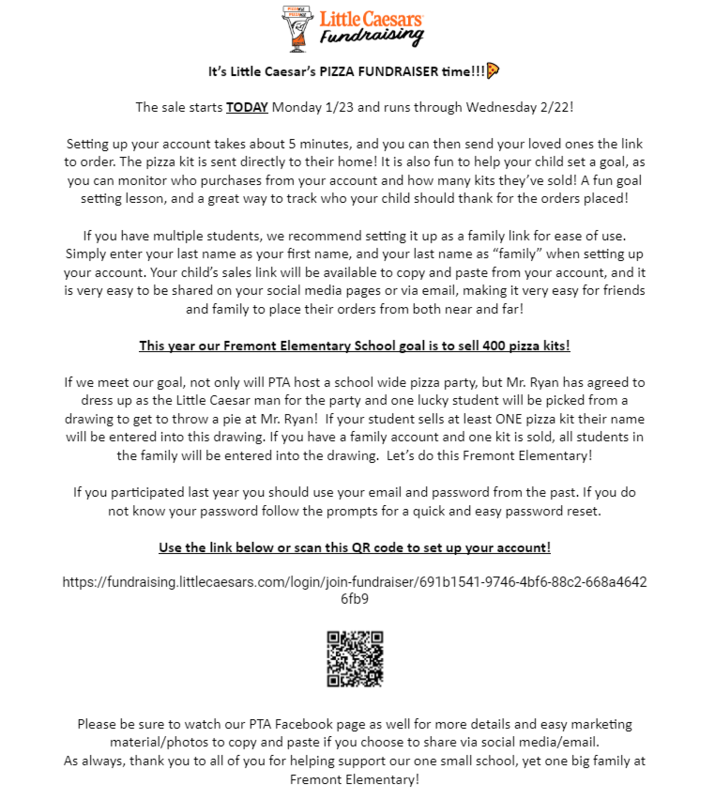 Important upcoming dates:
2/20: No School- Teacher In-Service
2/22: Little Caesar's Pizza Fundraiser ends.
2/22: 3rd-5th grade field trip
2/27: K-8 Science Fair- in the Middle School Commons., at 5:30pm until 7pm. More information on the school website.
2/27-3/3: Read Across America Week
3/2: Read Across America Family Trivia Night
3/9-3/15: Scholastic Book Fair in the Fremont Elementary office during school hours.
3/9: No School- Parent Teacher Conferences
3/10: No School- Teacher In Service
3/29: End of 3rd Quarter