Weather- This ever-changing weather is upon us. With the different temperatures from morning to afternoon, we ask that all students are dressed for the weather. Please provide hats, mittens, coats, and anything to help your child(ren) keep warm. It is helpful to label items so it is easy to return them to the proper student!
Lost and Found: Please have your student look through the tables.
Menu change for Breakfast on Monday 10/31 is a Cinni-Mini pull apart. Lunch options on Monday 10/31 is either a Personal Cheese Pizza or a Hot Dog. Menus will be coming out as soon as possible.
Reminder that Weyauwega Elementary school day starts at 8:000am, any time after that your student is considered tardy.
Please call the office if your student will be absent. 1-920-867-8165 .
W-F Youth Wrestling Club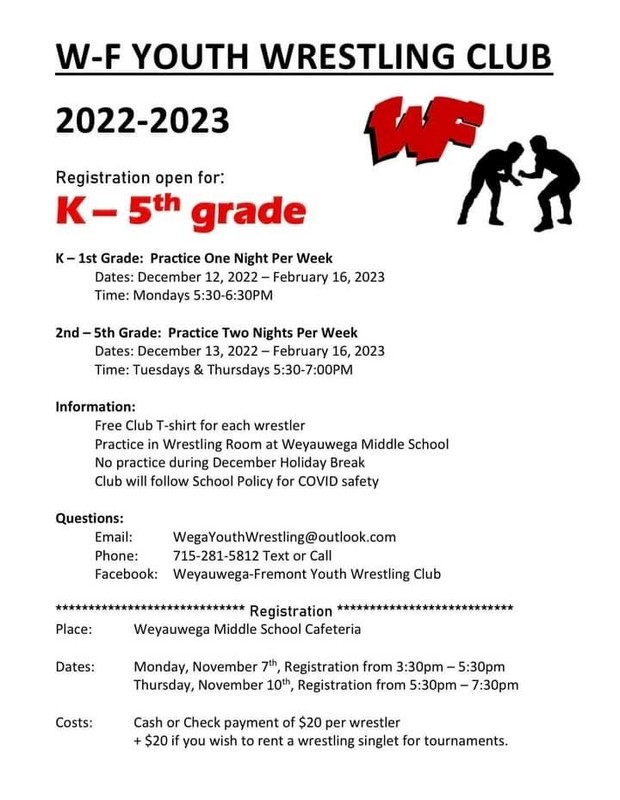 10/31: Weyauwega Trick or Treating 4pm-7pm
10/31: Boo Fest 4pm-7pm, on Main Street in Weyauwega.
11/4: End of 1st Quarter
10/31-11/4 Seal-A-Smile will continue
11/23-11/25: No School- Thanksgiving Break